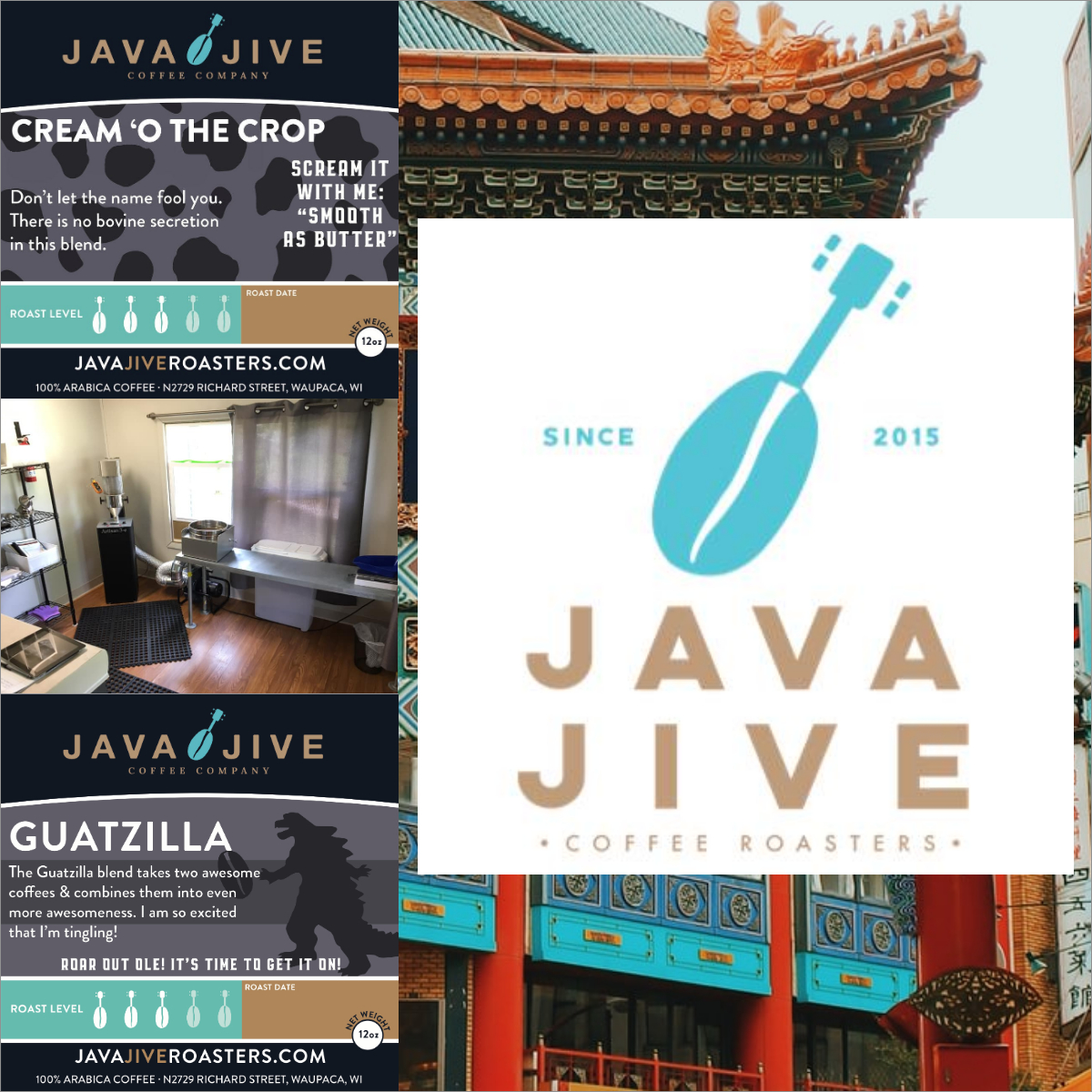 Java Jive Coffee Roasters
Waupaca, WI
WAUPACA, WI – Not every person who starts their own coffee business falls into the category of "Lifelong Coffee Lover." That certainly was the case for Java Jive Coffee Roasters. It wasn't until he had access to fresh roasted coffee that Dave was convinced by his wife Jaime, both co-owners of Java Jive Coffee Roasters, to give coffee another try.
"For almost his whole life, my husband detested coffee," Jaime said. "He hated its smell and the thought of coffee until he was asked to work at a coffee/music shop to give vocal and instrumental lessons. He was asked to barista between lessons. Upon accepting, we decided he'd better at least try to find one coffee beverage he at least could stand in case he was asked by customers for recommendations."
Dave decided to try regular coffee and to everyone's surprise, he actually liked it. He had only ever had cheap, store bought coffee. So, when presented with fresh roasted coffee, he was turned into an avid coffee lover.
After a while, the coffee/music shop closed down and Jaime, Dave, and their kids moved to China. While they were there, Dave was asked to help start a coffee shop, but was unable to find good coffee to serve the customers. It was at this point he turned to roasting and started producing his own fresh roasted coffee.
"We couldn't find good roasted coffee that lived up to US standards, so we invested in a small roaster and began experimenting," said Jaime. "When we returned back to live in the US, we bought a small roaster and roasted coffee for friends and family as gifts. We solely gave it away for many years and we were pressured to go into business because of the nature of our roasts being exceptionally smooth and acidic."
And thus, Java jive Coffee Roasters was born. They currently offer 15 different specialty roasts as well as the ability for their customers to customize roasts to their personal liking. It is this level of service that has also gained them accounts as a private label roaster.
"We gained accounts as a private label roaster for many small businesses and shops that want to add coffee to their retail business," Jaime said. "They also give coffee as a gift or token of thanks to their employees and clients. We work with companies to develop not only a label that reflects their company as well as their own blend that represents their company or personal preferences."
You can find more information about Java Jive Coffee Roasters by using the following links:
Website: https://www.javajiveroasters.com/
Facebook: https://www.facebook.com/javajiveroasters/
No Results Found
The page you requested could not be found. Try refining your search, or use the navigation above to locate the post.
Join These and Thousands More Satisfied Customers