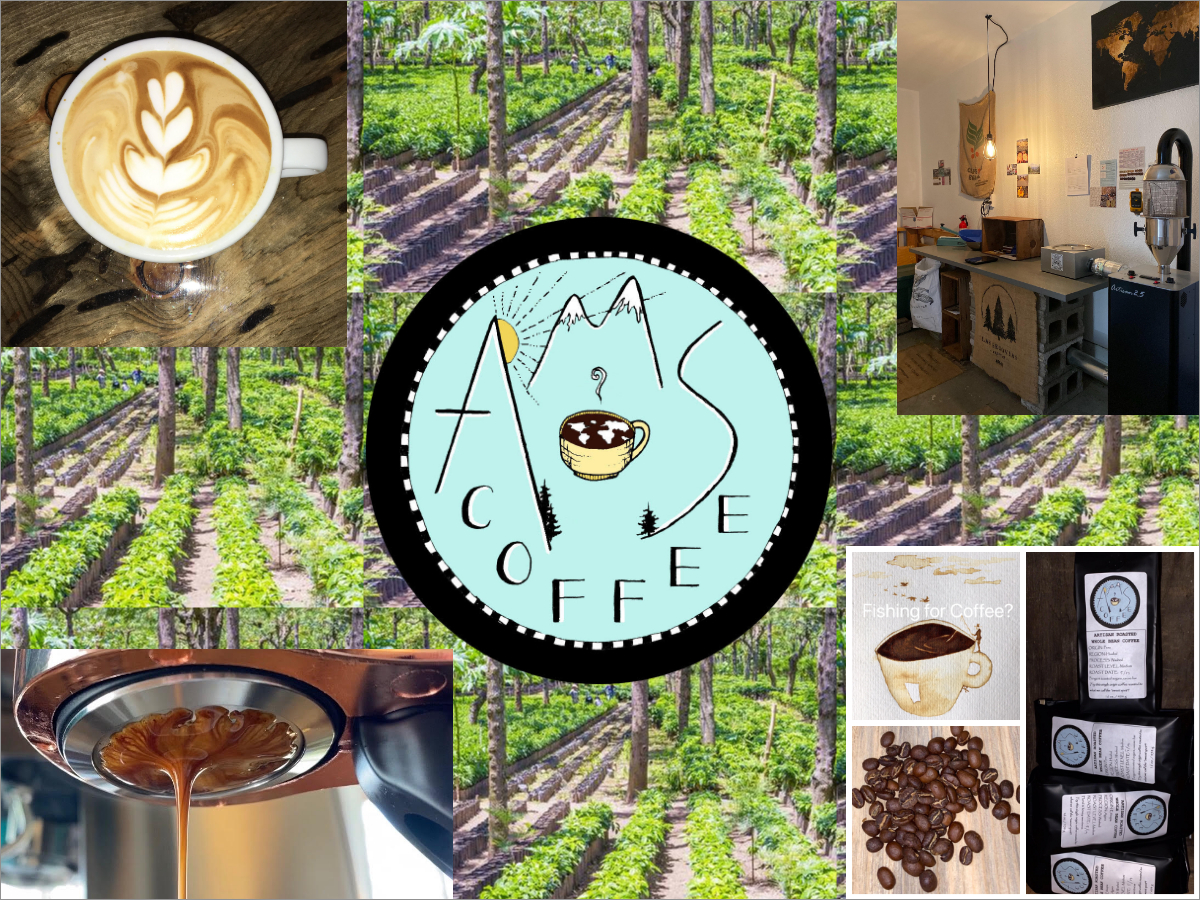 Am's Coffee
North Powder, OR
NORTH POWDER, OR – Amber Redger, owner of Am's Coffee, has come a long way since the days of roasting coffee beans in a cast iron kettle with a wooden spoon over a camping stove. Located in the small, rural town of North Powder, Oregon, Amber has spent the last 4 years providing fresh, high quality coffee to her friends and family.
"I roasted entirely by my senses and a little oven thermometer," Amber said. "I put out some excellent coffees and began selling to my family and friends. Amidst the smoke and stirring, a dream formed of owning a small roastery."
Amber now uses an Artisan 2.5 to roast her coffee and has been using her knowledge of coffee to offer her customers a variety of single origin roasts since 2017. Her love of coffee and the special care and attention given to each roast is what make her stand out as a micro roaster in rural Oregon.
"It's my passion," Amber said. "I love pouring latte art and also painting with my coffee medium. My roasts are typically single origins and you can celebrate each origin's unique flavors, roasted to what I call 'the sweet spot'."
Born in Brazil, Amber's family has deep roots in the coffee industry, even before she started roasting her own beans. As a young girl, Amber's mother helped her great grandfather plant coffee trees on his farm in Brazil. Amber's family has all loved coffee and has been a part of their lives for generations.
"Upon our return trips to visit Brazil, Grandpa L. loves taking us to Café do Ponto and treating us to one of their shots of espresso with a dollop of whipped cream," Amber said.
You can find more information on Am's Coffee using the following link.
Website: https://www.amscoffee.org/
Wallaby Roasters
Colorado Springs, CO
 COLORADO SPRINGS, CO – At Wallaby Roasters, coffee roasting is a family affair. Since 2014, the Raymond family has been selling organic, whole bean coffee to their neighbors in Colorado Springs.
"My daughter, Bryanna, my son, Daniel, and I were volunteer baristas at our church coffee shop," said Kim Raymond, the matriarch of the Raymond family. "Daniel was in college for innovative business and wanted to start a business. I realized we know something about the coffee business and searched for a roaster. We found Coffee Crafters had an affordable roaster and we had a quick family business meeting."
The Raymond family named their business after a small animal called the wallaby which is a kind of smaller species of kangaroo. These animals are native to Australia where the family spent three years living.
Once they got their team together and locked down their company name, they created a website to sell their coffee online and took to farmers markets as well to get the name out there. Wallaby Roasters is unique where they will give you their list of beans and then you can decide how you want it roasted instead of them deciding for you. While at the farmers markets, they met people who have helped them develop their brand.
"One person taught me how to make cold brew and now I drink it every morning in my iced latte," Kim said. Another person they met sold them equipment to help expand their variety of coffee they provide to customers. One day, they hope to open their own small shop so they can include pour over and espresso options.
You can find more information on Wallaby Roasters at the following links.
Website: https://www.wallaby.coffee/
Facebook: @wallabycoffee
Instagram: @wallabycoffee
Twitter: @wallabycoffee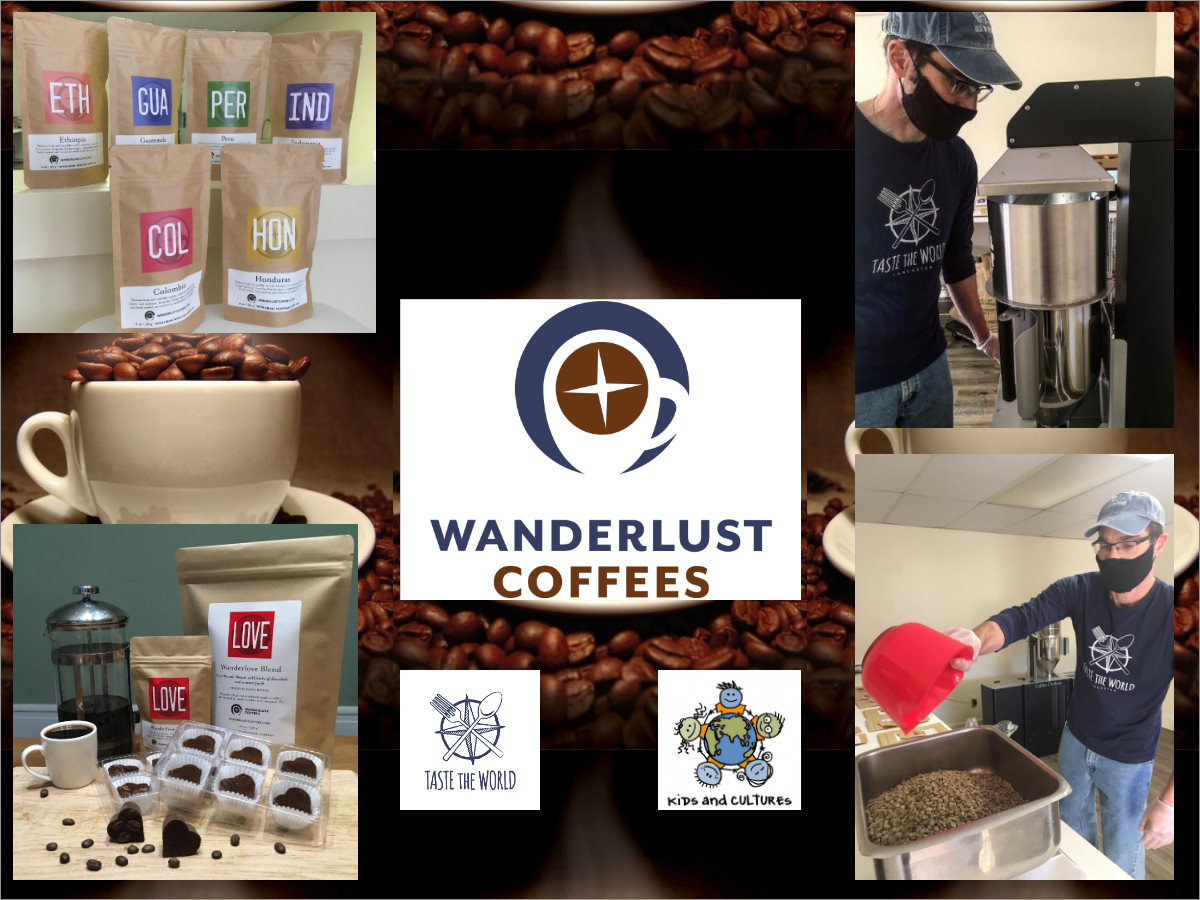 Wanderlust Coffees
Lancaster, PA
 LANCASTER, PA – Wanderlust Coffees may be one of the newest roasters on the coffee scene today, but they have hit the ground running in order to make an impact on the world of tomorrow for many people. Located in the town of Lancaster, Pa., about 70 miles west of Philadelphia, this roaster has partnered with local non-profits to donate portions of sales to help those in need.
"One of our main features of our business is that we partner with non-profit organizations that are doing good in the world," said Timm Wenger, owner of Wanderlust Coffees. "We help them develop a blend and name and assist them with marketing. We sell their coffee at our site, roast and fill the orders and send a portion of the proceeds to the non-profits."
Wanderlust Coffees opened their doors in December 2020 and in their first month raised $679.84 for eight of their organizations their partner with. This business is the third business run by Timm Wenger and his wife Kristina. The other businesses are Taste the World, a walking tour where they bring guests in to try the many different restaurants in Lancaster's downtown area, and Kids & Cultures, an organization that allows kids to interact with different cultures through games, music and summer camps. These two businesses are currently on hiatus due to the pandemic.
"Because of the pandemic we wanted to try something new," Timm said. "A friend turned us into coffee lovers about a decade ago when he introduced us to air roasted coffee. We wanted to share the delicious experience."
The name Wanderlust comes from Timm and his family's love of traveling. They have adopted this beautiful quote by Pico Iyer, an author known for his travel writings, as a family motto, "A person susceptible to wanderlust is not so much addicted to movement as committed to transformation."
"As a family that loves to travel, experience new cultures, and meet new people, the limitations caused by the pandemic have us craving to see more of the world," Timm said. "Through the connections of coffee, we are learning about the countries and people where the coffee comes from and want to share this with our customers and community."
You can find more information on Wanderlust Coffees, their other organizations, and the non-profits they work with in the links below.
Wanderlust website: https://wanderlustcoffees.com/
Wanderlust Facebook: @wanderlustcoffees
Wanderlust Instagram: @wanderlustcoffees
Taste the World Website: http://www.tastetheworldlancaster.com/
Taste the World Facebook: @tastetheworldlancaster
Kids & Cultures Website: http://www.kidsandcultures.com/
Kids & Cultures Facebook: @kidsandcultures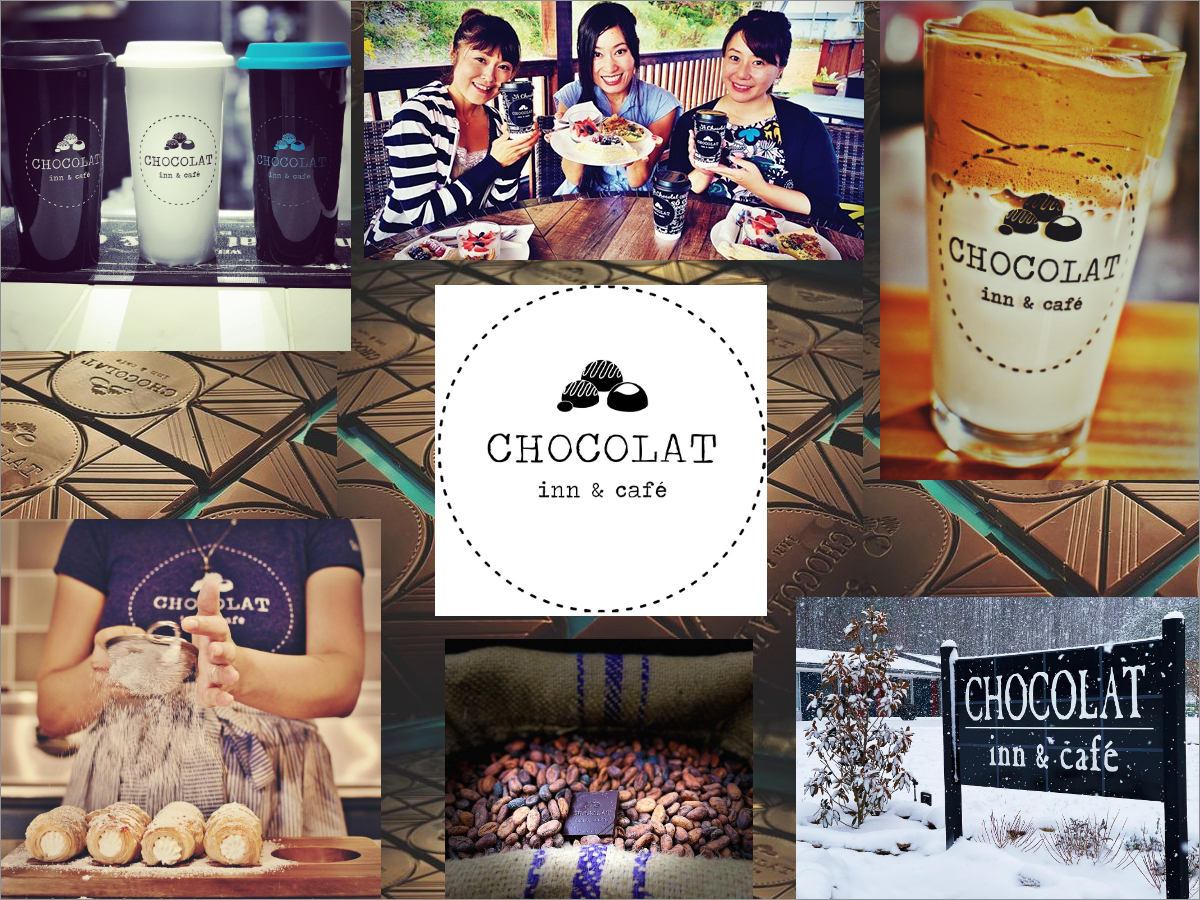 Chocolat Inn & Cafe
Beattyville, KY
BEATTYVILLE, KY – Nestled in the Appalachian Mountains is the Chocolat Inn & Café, a bed and breakfast that offers homemade chocolate, pastries, and, of course, coffee. Owned and operated by Dustin Cornett and his wife Mia, the Chocolat Inn & Café offers a unique experience with boutique rooms, first class amenities, and is next to national parks with plenty of room to roam.
"We started offering specialty coffee to compliment the chocolates and pastries of our café and wanted to offer high quality coffee," Cornett said. "We felt roasting our own was the only way to do this."
Dustin's journey started after he returned to Kentucky from traveling the world with his wife. He found his grandmother's old candy recipes and taught himself how to make chocolate using cacao beans. However, being in such a small town, their business could not survive if it was just a specialty chocolate shop. That where the bed and breakfast came in.
"We offer an experience," Cornett said. "We are a bed and breakfast inn that offers quality products. You get an amazing breakfast that comes with our specialty coffee that we tailor from the bean. We take this approach with cacao as well in a more painstaking process. We own and operate so you meet the makers, and we love to share our experiences and educate our guests about coffee and chocolate."
The coffee part of the business came naturally to compliment the rest of the business. Dustin and his wife wanted to be able to offer specialty coffee to compliment their homemade chocolate.
"I roast the coffee and then I get to tailor my coffee drinks for the café," Cornett said. "I know how to balance everything because I'm in control of everything. Then once I learn my customer's preferences, I can make something they love. It's pretty cool to be able to do that."
You can find more information about the Chocolat Inn & Café on their website and Facebook page. You can also reserve a room if you are looking to get away into nature.
Website: https://www.chocolat-inn.com/
Facebook: @chocolatinncafe
Instagram: @chocolat_inn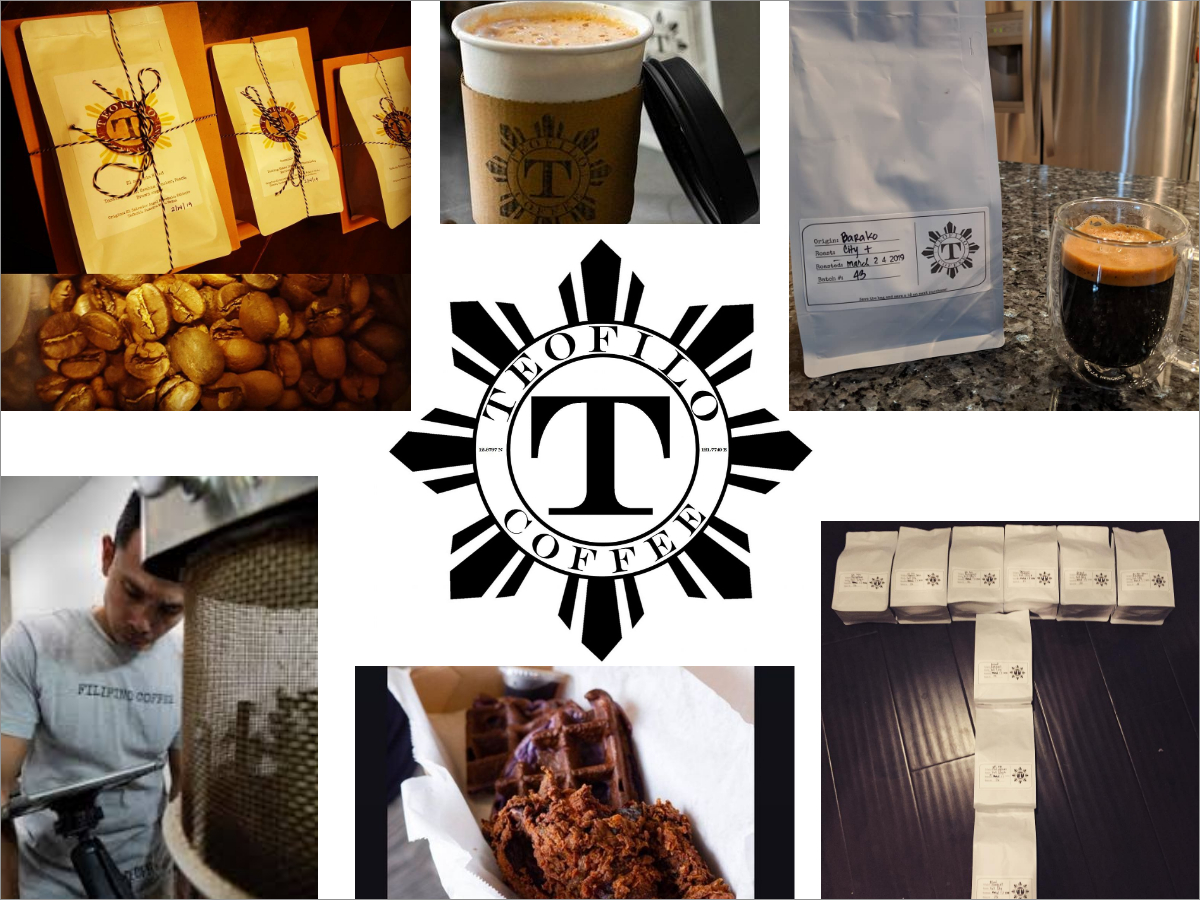 Teofilo Coffee
Los Alamitos, CA
LOS ALAMITOS, CA – To Ron Dizon, being from the Philippines is not just a fact of his life, it is something that he takes a lot of pride in. As the owner and founder of Teofilo Coffee Company, Dizon has goals to bring the taste and tradition of Filipino coffee to a larger group of people here in the United States.
"I remember when my mom sparked a conversation mentioning coffees that came from the Philippines," Dizon said. "That was back in 2017. This moment turned into my own obsession of figuring out why and how this was even a thing."
Born in the Philippines, Dizon and his family came to the United States when he was just four years old. He remembers his childhood was "heavily influenced" by American culture and that he used to feel embarrassed about his Filipino heritage. As he got older, Dizon has embraced his heritage with a newfound passion for coffee.
"In being a part of that generation of Filipino-Americans, this obsession of Filipino coffee turned into a passion that wanted me to give back to the Philippines," Dizon said. "I spent a lot of late nights just researching and obsessing and learning more and more about this one crop that resides in the Philippines."
On top of the endless hours of research, Dizon also spent quite a lot of time finding a supplier to get him authentic Filipino coffee. After a few failed attempts, he finally found a supplier that can ship him beans directly from his home country to his business that currently resides in Los Alamitos, California.
"I bring it (the green coffee beans) back here and it's like I never left," Dizon said. "When I drink it, it's like I'm back there. It felt like home."
With his new knowledge of coffee and someone who could supply the green beans needed, Dizon started his business, Teofilo Coffee Company, named after his grandfather. He started off by roasting and selling at farmer's markets until he expanded to have a storefront where he sells specialty Filipino coffee as well as sweets, smoothies, and sandwiches.
"Getting into this, I knew it was going to be a challenge," Dizon said. "It took a lot of discipline and mental preparation to get ready for where we are at now."
You can find Teofilo Coffee Company online at TeofiloCoffeeCompany.com to order your specialty Filipino coffee and to learn more about this amazing movement.
Website: https://www.teofilocoffeecompany.com/
Instagram: @teofilocoffeecompany
Facebook: @teofilocoffeecompany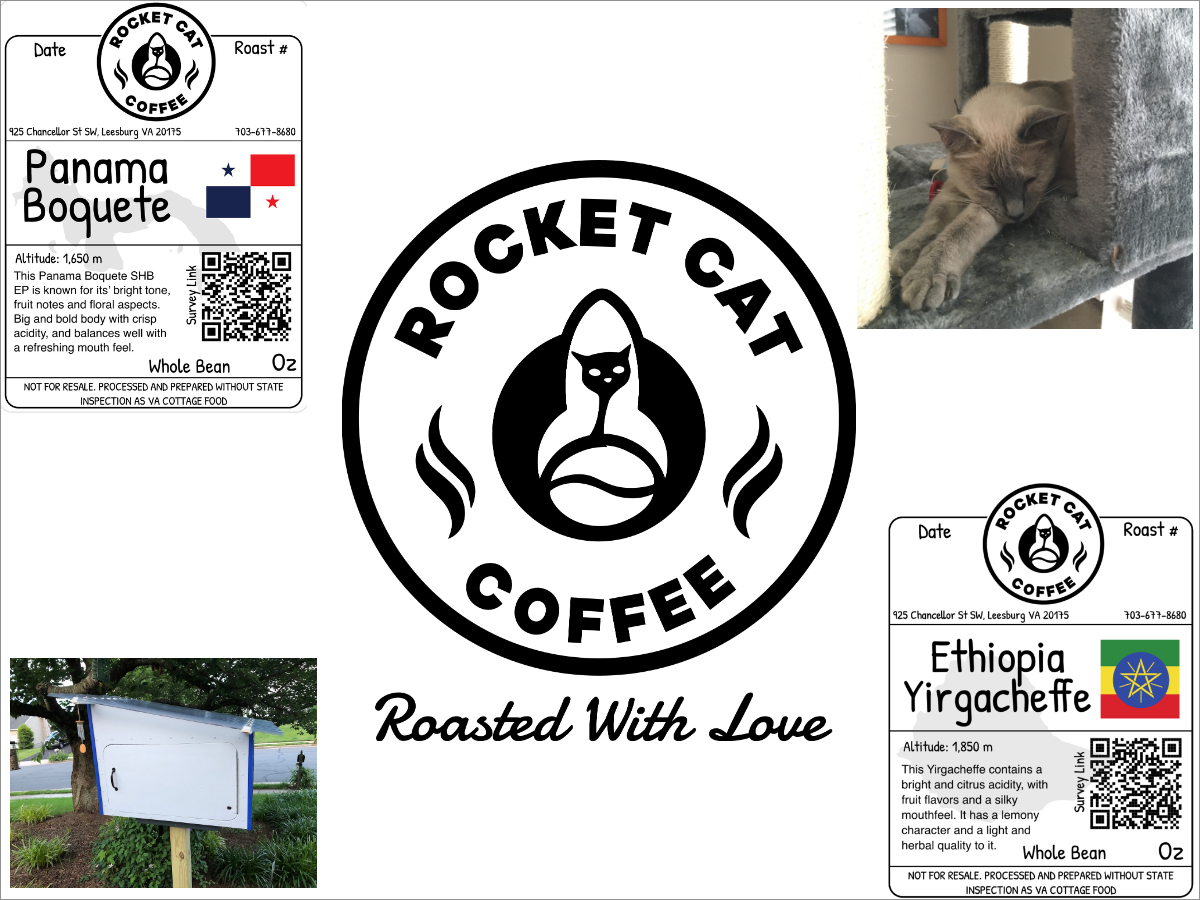 Rocket Cat Coffee
Leesburg, VA
LEESBURG, VA – Just a few miles outside of our nation's capital, you will find the small batch coffee roaster, Rocket Cat Coffee. Specializing in high-altitude, single origin coffee, Rocket Cat Coffee has the community of Leesburg, VA buzzing over fresh air roasted coffee.
"Having recently moved to Leesburg, I wanted to step up my own coffee game and started roasting at home with an electric, commercial fluid bed roaster," owner Jared Watkins said. "When the pandemic hit, I realized it was something I could offer me neighbors as well."
Watkins had gained appreciation for small batch coffee over years of living next to a micro roaster before moving to Leesburg. When he and his wife moved to the D.C. area the choices were more limited. This is when Watkins decided to "take things to the next level" and started roasting his own coffee at home.
"Being the engineer type I learned everything I could about the beans and the business," Watkins said. "I like doing the roasting. This is strictly a side business for me, and I like being able to offer coffee to my neighbors. It's also a great way to meet more people in the area."
Rocket Cat Coffee has adjusted their business in order to allow for safe transactions with its customers during the pandemic. Watkins has conveniently installed a sort of "drop box" for people to safely pick-up their coffee so they can still enjoy fresh coffee while being stuck at home. They also offer a delivery option if you live close by.
You can check out Rocket Cat Coffee on their website, https://rocketcat.coffee/, or on their Facebook page, @RocketCatCoffee.
Website: https://rocketcat.coffee/
Facebook: @RocketCatCoffee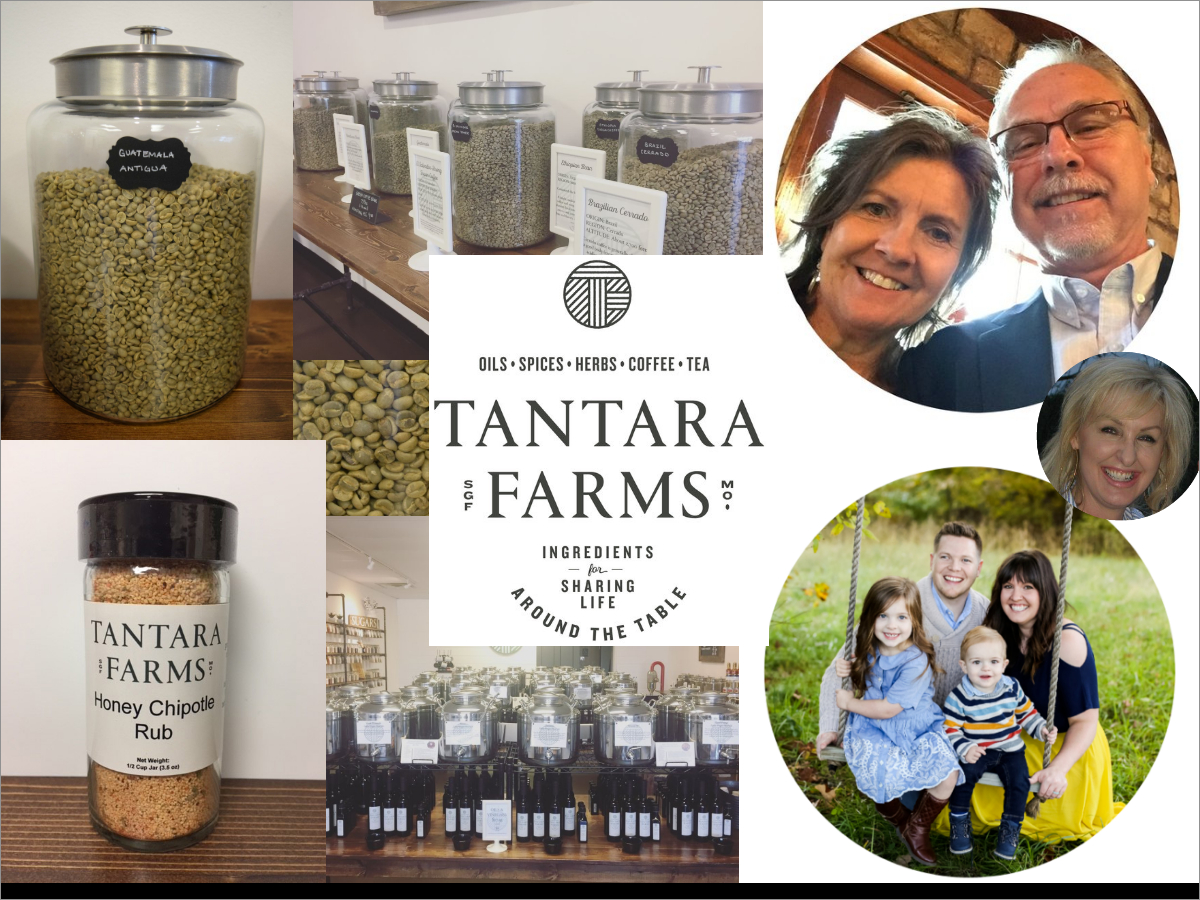 Tantara Farms
Springfield, MO
SPRINGFIELD, MO – When it comes to diversity in the products you offer as a small business, it would be hard to beat the selection provided by Tantara Farms. Located in Springfield, Missouri, Tantara farms offers not only a wide variety of coffee options but also provides a great selection of oils & vinegars, herbs & spices, and specialty salts.
"I always wanted to go to the next level of roasting," said Keith Williams, co-founder of Tantara Farms. "It started out as hobby and then has just grown. We have been in business going into our fourth year."
Keith Williams has partnered with his friend Clayton Lile to offer this wide variety of products. Williams calls Lile his "secret weapon" and says without him the business would not be as good as it is.
"He loves people, and he loves coffee," Williams said. "He is very knowledgeable of the different types of coffee beans."
Tantara Farms have been roasting on the Coffee Crafters Artisan 3e until recently when they upgraded to the Artisan Xe to accommodate for larger roasting. Tantara Farms offers single origin coffee from eight different regions with your choice of light, medium, or dark roasts for each. But they did not stop there. They also offer an option to do custom blends and roasts upon request, so the customer's options are almost endless when it comes to coffee.
"We are not a coffee house; we just roast and sell the roasted beans in our store," Williams said. "We were invited to participate in a coffee house trade show where we sampled our roasted coffee against all the big boys and girls in the area. It went really well, and we were picked as one of the best coffee houses even though we are technically not a coffee house."
Tantara Farms was named after Keith's little sister Carolyn's farm in Shelbyville, Tennessee by the same name. Carolyn passed away from cancer about ten years ago, so they named the store after her farm in honor of her and the joy she brought to everyone she met.
To go along with their excellent selection of coffee, Tantara Farms also sell specialty oils and vinegars, herbs and spices, and salts and rubs for any flavor you may be looking for. They have Bourbon Maple Dark Balsamic Vinegar, Smoked Extra Virgin Olive Oil, a Honey Chipotle Rub, and Spicy Curry Sea Salt just to name a few.
On the coffee side of the business, Williams says what keeps his customers coming back is the consistency of the coffee. He also urges anyone thinking about starting a coffee business to go with an electric roaster as it is much easier to learn how to roast on electric roasters.
"We only roast the best beans and do not try and cheapen our roasted coffee beans," Williams added. "We are able to do small batches, so our customers feel better taken care of."
All of these products can be found on their website, TantaraFarms.com and is shipped to your home or business. Or if you are in the Springfield, Mo. area, head over to their shop and talk to the experts in person!
Website: www.tantarafarms.com
Facebook: @tantarafarms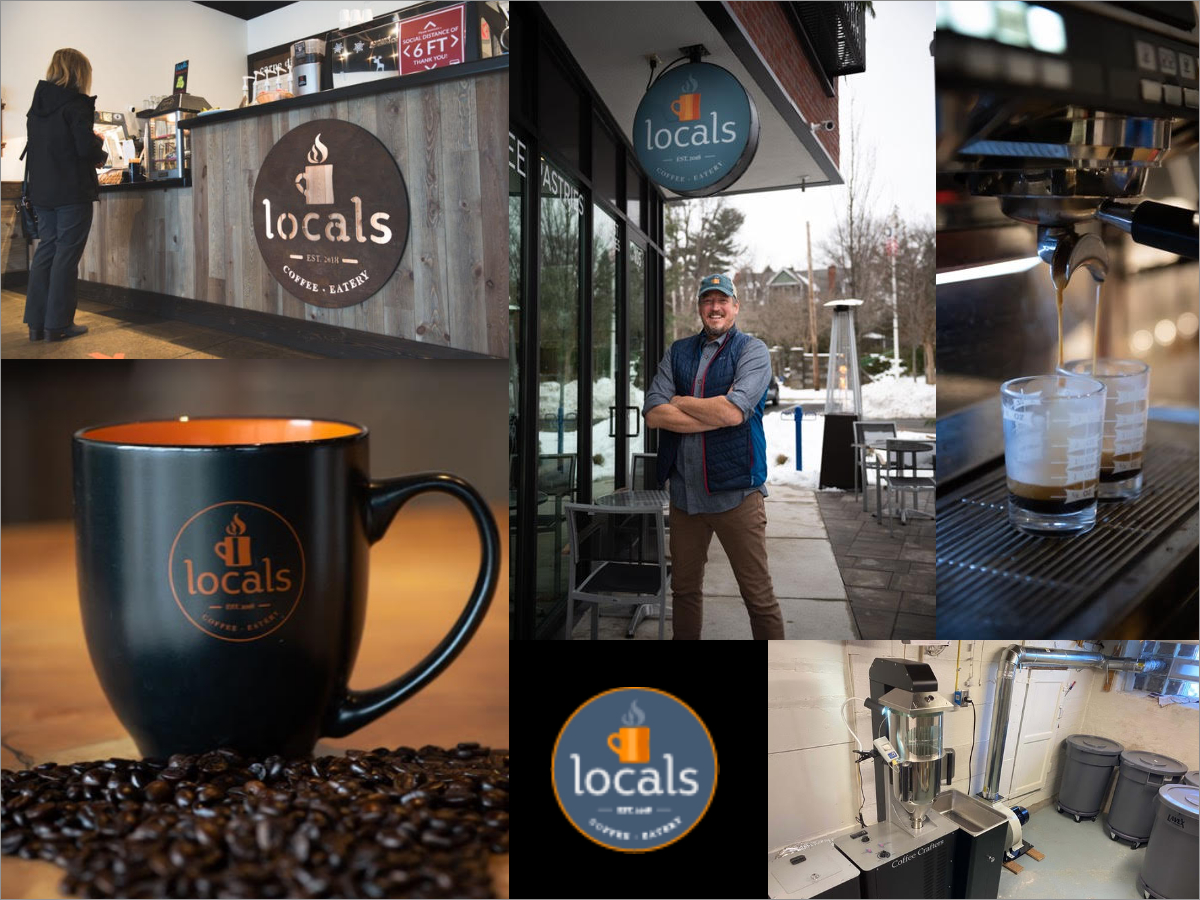 Locals Coffee & Eatery
Wyndmoor, PA
WYNDMOOR, PA – If you were to drive just a few miles north of Philadelphia, you would come across the small town of Wyndmoor, Pennsylvania, home of the small business Locals Coffee & Eatery. Since 2018, Locals has been providing its community with fresh coffee and great breakfast food to start your day off on the right foot.
"We live two blocks from our café," said Scott Davis, owner of Locals Coffee & Eatery. "We needed something like that in our neighborhood and wanted it to be a focal point where people could meet and get great coffee and food."
Locals Coffee & Eatery stands out among their competitors due to their commitment to sourcing high quality products from local providers, hence the name. According to their website, Locals says if they do not make it themselves, they find someone local who can. Doing this allows them to not only help the other business around them, but also control the quality of their products that goes to the customer.
Locals offers many coffee options at their shop, everything from Mochas to Cappuccinos, but the best seller at the shop is their Latte. Davis' favorite is the Americano with a splash of cream. Locals coffee is also available online and can be shipped to your home or business. Options for online orders include a medium roast, dark roast, and espresso blend. All coffee orders online come with the option of ground or whole bean, adding to the already great variety of options available at LocalsCoffee.com.
"I think people really like that the coffee is fresh roasted, and it gives me a sense of pride to provide something that people really like," Davis said.
Locals Coffee & Eatery is currently roasting on the Coffee Crafters Artisan Xe, a roaster which can roast 10 lbs. of green coffee beans at a time. Davis says he was a complete novice when he started roasting the coffee himself but quickly received great feedback from regular customers telling him how much they liked the new coffee. Before that, Locals had been using another roaster to get their coffee.
When asked what advice he would give someone who was looking to start a coffee roasting business, Davis said you should talk to people who have already done it.
"The coffee community is almost always ready to help others," Davis said. "We really pride ourselves in the quality of our products and the service we provide. We take pride in knowing as many people by name as we can. If you have a true appreciation for your customers, it shows."
Locals Coffee & Eatery is one of Coffee Crafters' many successful customers. Check them out at LocalsCoffee.com or if you are in the Philadelphia area stop by their shop in Wyndmoor and see it for yourself.
Website: www.localscoffee.com
Instagram: @localscoffeewyndmoor
Facebook: @localscoffeewyndmoor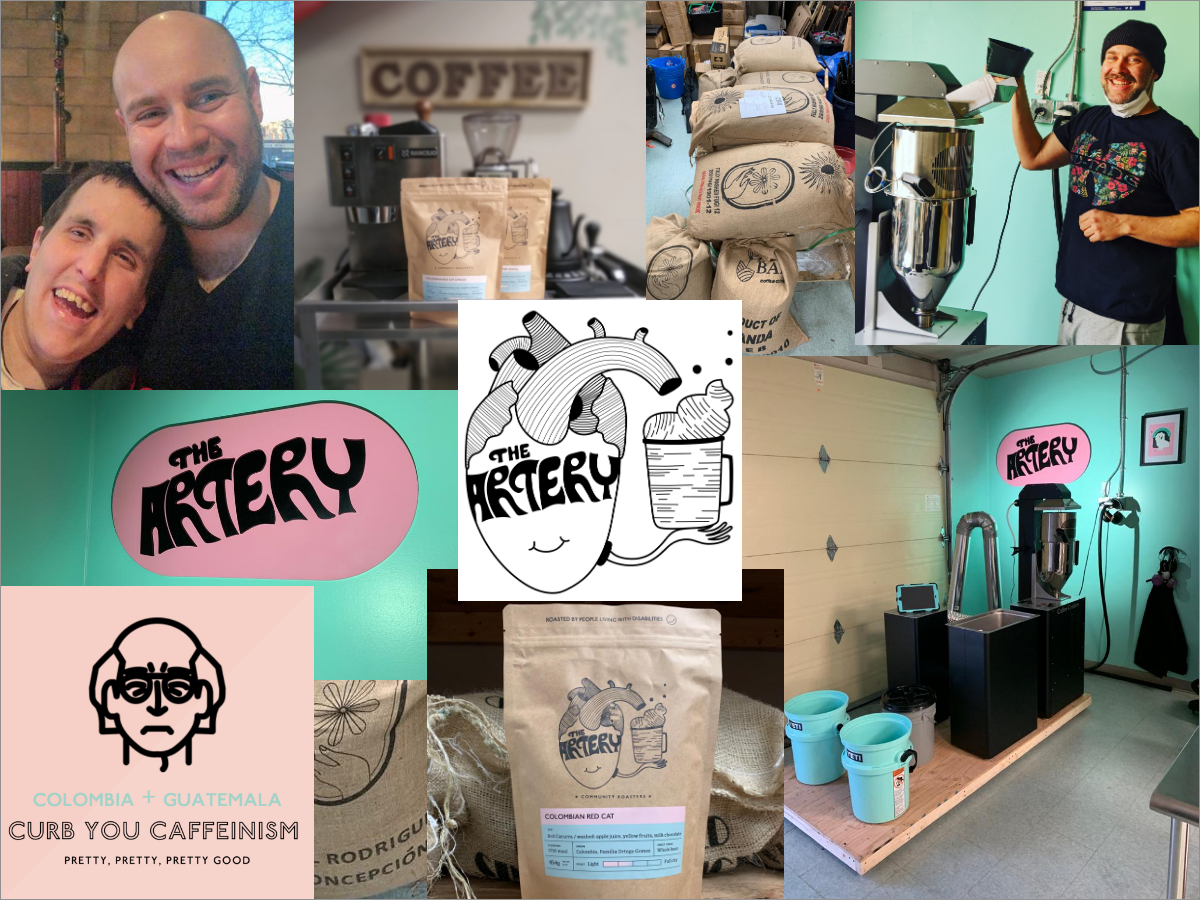 The Artery Community Roasters
Ottawa, Ontario, Canada
OTTAWA, ONTARIO, CANADA – When you think of coffee roasters, community probably is not one of the first words that come to mind. But at The Artery Community Roasters, community is more important than anything. The Artery is a local coffee roaster in Ottawa, Ontario, Canada that works with a local organization to employ people with disabilities and give them a part time job roasting coffee.
"I have been a garage roaster for years and an advocate for people living with disabilities," said William Wells, owner and founder of The Artery Community Roasters. "I fused the two passions and teamed up with some not for profits who got us a space. We also were linked up with highly ethical farming practices and work very closely with some incredible farms with incredible stories and missions behind them."
William Wells and his wife volunteer at an organization called ABLE 2. This organization pairs volunteers with someone with a disability to be their friend and provide support. Wells says he really wanted to find a way to offer meaningful employment to people with disabilities.
"We pay $16 an hour and empower my staff to be the face of the business," Wells said. "I do this all as a second 'job' and by day I write speeches for government officials."
The Artery is currently roasting on a Coffee Crafters Artisan Xe, a roaster that can roast up to 10 lbs. of green beans at a time. Wells' personal favorite product is his nod to Larry David, the Curb Your Caffeinism blend. It is a half-caf blend made of half decaf grown by Indigenous Xinca farmers in Guatemala, and the other half is a mix of Red and Yellow Caturra. This special blend is a great example of The Artery's commitment to quality and ethical sourcing of green coffee beans from ethical family farms.
"I love roasting so much," Wells said. "While we have only been open for a month, the best part has been getting to already provided three part time jobs to people with disabilities, while also roasting coffees that are truly special. There is no better job in the world!"
The Artery Community Roasters has goals to continue providing great coffee from ethical farms for years to come. In addition to the roasts, they currently offer online, The Artery will be rolling out new products throughout the year with the first one, Tempo Blend, coming in January 2021.
"We have both exceptional coffee and we are also a roastery with a mission," Wells said. "A purpose to advocate for, and employ, people living with disabilities, who are underrepresented in the workforce. In Canada, when someone with a disability is able to find employment, they are paid on average 30 percent less than someone without a disability. We are trying to play a small part in helping to change that."
Check them out at TheArteryCommunityRoasters.com and see for yourself how much heart coffee can really have.
Website: www.thearterycommunityroasters.com
Instagram: @thearterycommunityroasters
Facebook: @TheArteryCommunityRoasters
Join These and Thousands More Satisfied Customers